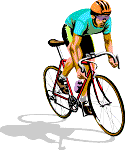 Welcome to the Team RADPAN ride message center. You may post information about new rides or browse through upcoming bicycle rides and events .
Are you looking to start a group ride or are you looking for a few riders to join you on a ride? -- Well we have the answer, post the information about the ride here and it will be available immediately to anyone on the web.
This is a FREE service to the bicyclists. Please note that we are NOT responsible for injuries or accidents that may occur from a ride listed here (or any other ride for that matter).
Please wear a helmet while riding at all time.